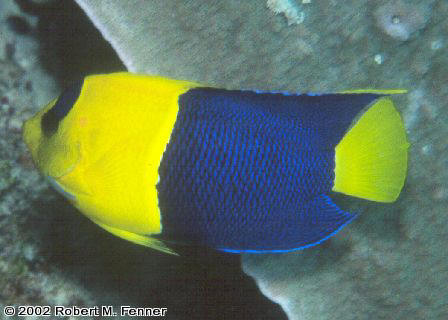 Photograph courtesy of, and Copyright by, Bob Fenner, WetWebMedia.com
Common Name - Centropyge bicolor
Scientific name - Bicolor Angel
Appearance - Entire front of body is bright yellow, rear half of fish is dark metallic blue, with a yellow tail. All have a blue band extending over the eye. Attractive looking fish. Two colors for the price of one.
Location - Widely distributed throughout the South Pacific
Comments - Very difficult to keep alive. There must be something in the collection process for as common as this fish is I personally have never been able to get one past initial acclimation.

___________________________________________