In nature most of the Centropyge family spends its time within coral or rubble covered areas, caves and crevices. Quite often they can be spotted swimming upside down on the underside of overhangs. When found swimming in open areas they are quick to retreat into holes or the base of corals.
In the aquarium pygmy angelfish need to have a structure of rocks or decorations that will allow them an area to retreat to when threatened ( this applies to many saltwater fishes ). Decorative rocks and corals ( fish only systems) or live rock and living corals ( living coral reef systems ) are both great environments. the Fish-Only systems work well and are easy to administer medications if needed, whereas Coral Reef systems can provide a far greater range of small invertebrates, sponges and algae's as additional food sources.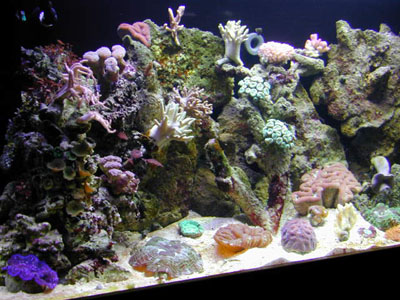 In the wild dwarf angels feed on algae's and debris, sponges and small crustaceans. In the aquarium Dwarf angels tend to accept all forms of foods. I have found that in the beginning it was good to get them feeding on frozen Mysis. This food seems to get their attention as a result of the high amount of oils and lipids it contains. Over time a variety is best for any fishes. Pygmy's will nip at algaes and small invertebrates, especially tanks furnished with live rock.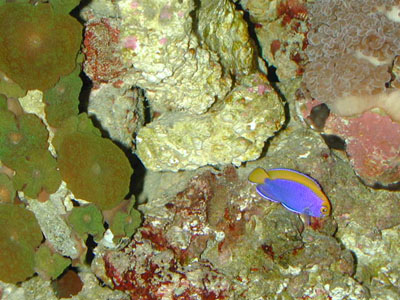 Centropyge species angelfish overall are a peaceful and hardy choice for the aquarium. They tend to get along with other established tank mates. Their graceful swimming manner and bright colors are a good addition to most marine aquariums.

___________________________________________