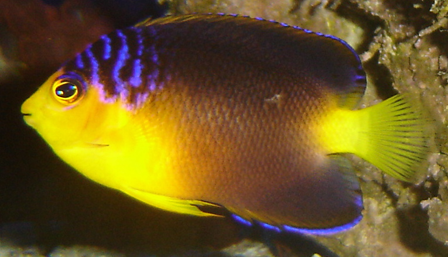 Photograph courtesy of, and Copyright by, William Crook
Common Name - Nahacky's Pygmy Angelfish
Scientific name - Centropyge nahackyi
Appearance - Body color is divided between upper area being dark blue with several squiggly black and bright blue lines over eye and lower half being yellow. Rear anal fin is dark black edged with bright blue and the tail is yellow. Size range between 1 inch and 2 inches.
Location - Known only from Johnson Atoll west of the Hawaiian Islands.
Comments - Due to location collected very few have ever come into the hobby.

___________________________________________