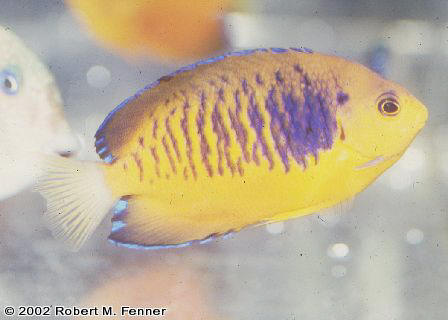 Photograph courtesy of, and Copyright by, Bob Fenner, WetWebMedia.com
Common Name - Shepard Pygmy Angelfish
Scientific name - Centropyge Sherpardi
Appearance - Burnt orange body, upper half is darker than the lower half, with dark vertical bars. The dorsal, anal fins are edged with a brilliant bright blue, and the tail is translucent.
Location - Western Pacific from Japan to the Izu Islands
Comments - Once past acclimation this fish is very hardy and eats well. As with all centropyge it will feed on flake foods but will do much better on a variety of small bite-size frozen foods, such as mysis shrimp. These fish are collected from the open areas of the outer reefs often areas with large patches of sand. Tanks with live or decorative rock are great. Position the rock openly so as to create many passages.

___________________________________________