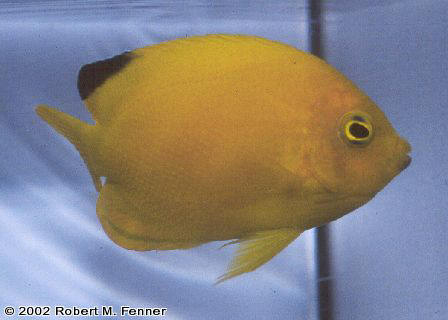 Photograph courtesy of, and Copyright by, Bob Fenner, WetWebMedia.com
Common Name - Herald's / Woodheads Pygmy Angelfish
Scientific name - Centropyge heraldi / woodheadi
Appearance - Body is completely yellow. If a black spot occurs at the rear of the dorsal then the species becomes a C.woodheadi.
Location - Western and central Pacific from Japan to Australia
Comments - I have never owned a C.heraldi or a C.woodheadi, but if they are like any of the other centropyge it will feed on flake foods but will do much better on a variety of small bite-size frozen foods, such as mysis shrimp. These fish enjoy having access to hiding places. Tanks with live or decorative rock are great. Position the rock openly so as to create many passages.

___________________________________________